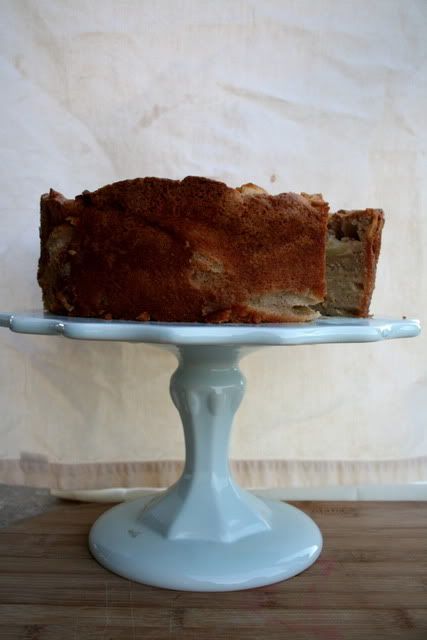 This cake is one of my favorites because it is the perfect combination of savory and fruity. The caramel sauce that tops the cake is the perfect addition that makes this cake delicious even without ice cream. This year was the first year, in as long as I can remember, that we were not the hosts to Thanksgiving dinner. So we thought that if not the dinner, we would make the desserts. So we spent the day before making this cake, pumpkin cheesecake, lemon bars, homemade rolls (post soon to follow), and of course the cranberry butter to top it. This cake was the hit of the night! I hope you give this recipe a try because it really is so simple yet so tasty. Enjoy!
Makes one 12-cup bundt or tube pan
1 c. canola oil, plus more for greasing
2 1/2 c. all purpose flour, plus more for dusting
6 Granny Smith Apples - peeled, cored and thinly sliced
2 1/4 c. granulated sugar
-Preheat the oven to 350 degrees. Grease and flour your pan. In a medium bowl, combine flour, baking powder and 2 tsp. cinnamon. In a large bowl, toss the apples with 1/4 c. sugar and the remaining tsp. of cinnamon. (Make sure as you thinly slice them, you are putting them in your sugar mixture and mixing it that way they do not brown). Set aside.
-In a standing mixer, beat the oils, eggs, orange juice, vanilla, and the remaining 2 c. sugar on medium speed for about 1 minute. Add the flour mixture in three batches, mixing until just combined. Add the apples and fold them in. Transfer to the pan, leaving abut an inch at the top, and bake until golden and a toothpick comes out clean. (about 1 1/2 hours). Let the cake cool in the pan completely before removing it from the pan. Serve with room temperature caramel sauce.
makes approximately 1 cup
-Put the sugar and water into a saucepan over medium high heat. (DO NOT STIR) Bring to a boil without stirring and occasionally wipe down the sides of the pan with a pastry brush to prevent crystallization.
-Once it gets to a boil and starts to get to a light brown color, swirl the pan around to evenly color the mixture. Once it become a dark amber, take it off the heat. Add 1/4 c. heavy cream SLOWLY while whisking fast and continuous. Once combined add the rest of the heavy cream. (If it clumps into a ball, keep whisking until all combined). Add the butter and vanilla and stir until combined. Strain into your jar or bowl. Let cool slightly and then refrigerate until use. Serve at room temperature.